Gibraltar lending to party chairman Nadhim Zahawi uncovered by SourceMaterial 'doesn't make economic sense'
A British minister whose tax affairs are under intense scrutiny is facing fresh questions over a high-interest loan from a company linked to his family.
Nadhim Zahawi reportedly reached a multimillion pound settlement with HMRC, the UK tax authority, following questions about his links to a Gibraltar-based company that held shares in YouGov, the polling company he founded.
But a leading tax expert and an opposition MP are now questioning his use of a second Gibraltar company. SourceMaterial has established that a loan Zahawi received from the entity, Berkford Investments, carried an unusually high 8 per cent interest rate.
Zahawi, a minister without portfolio who is also chairman of the Conservative Party, used the loan to buy a constituency home and adjoining stables in Warwickshire in 2011. He and his wife run the stables as a business.
High-interest loans can sometimes be used to suppress profits artificially in a higher-tax jurisdiction like the UK, effectively shifting them to a low-tax country like Gibraltar. Zahawi, through his lawyer, denied gaining any tax advantage from the arrangement.
Dan Neidle, a tax lawyer and founder of the think tank Tax Policy Associates, said that arrangement appeared not to have any commercial logic.
"When we see structures that don't make economic sense then the obvious conclusion is tax avoidance," he said.
Dame Margaret Hodge, the Labour MP, called on Zahawi to explain his links to offshore businesses.
"I sincerely hope that he comes clean and explains to the British people why he has used complex financial structures and companies based in tax havens," she said. "If not for the purpose of tax avoidance, then what?"
While Zahawi has distanced himself from Berkford, SourceMaterial has uncovered several links between the minister and the Gibraltar company.
In a Land Registry document, Berkford gave a UK address in Putney, West London, in addition to its Gibraltar address. Berkford's London property, about 100 metres from Zahawi's London home at the time, and was, according to the 2008 electoral register, the home of his mother, Najda Alzahawi.
Zahawi also applied for planning permission for alterations at Berkford's London property in 2009, according to a publicly available council document. A lawyer for Zahawi claimed the name on the form was in fact "Nadhim Zamawi".
"This is not our client and not his property," the lawyer said.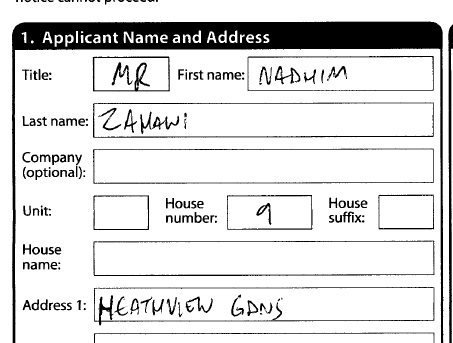 When Keith Kondakor, a councillor from Nuneaton, pointed out Zahawi's links to Berkford in 2013, lawyers wrote to Kondakor demanding "payment of substantial damages". They told him that Zahawi had no knowledge of the planning application and said there were "no undeclared links" between Zahawi and Berkford.
Zahawi's legal representative, Susan Aslan, of Aslan Charles Kousetta, said that the minister "declares and pays his taxes in the UK and that he "obtains no tax advantage from his loan arrangement".
She added: "He is not a beneficiary of Berkford Ltd or any other offshore structure."
She declined to explain why Zahawi had sought to downplay links to Berkford or why he was paying a mortgage rate of 8 per cent.
Dan Neidle, the tax expert, said:
"Zahawi is reputedly a wealthy man. The stables did not cost a lot of money. So why take a mortgage at all? Why take one from a Gibraltar company when that adds a 20 per cent tax cost? Why pay 8 per cent interest when base rates were 0.5 per cent?
"This is plausibly part of an overall scheme whereby Zahawi gave his valuable YouGov shares to his parents' offshore trust, via a Gibraltar company, and in return accesses capital from that trust, via a different Gibraltar company. As with other aspects of Zahawi's affairs, the tax avoidance here looks amateur, and that raises questions about whether proper disclosure was provided to HMRC."
Picture: Malcolm Park, Alamy