Sierra Leone is on the climate change frontline. Its defences are on sale to the highest bidder
Up a mud track twisting into the rainforest, in the shadow of Stonehenge-like granite blocks each the size of a small car, a group of men are stewing a pig's head over an open fire.
"I miss my family," says 32-year-old Feng Yang, showing us a video of his son, a floppy-haired seven-year-old singing karaoke back home in Henan in eastern China, as a full set of teeth steams amid pale floating chunks of meat. "I am here because the money is good."
Behind him, a hilltop that once teemed with wildlife, from elusive pangolins to endangered chimpanzees, has been decapitated. Instead a flat grey wasteland littered with industrial cutting machinery is surrounded by hundreds of granite slabs, stacked and waiting for export.
The hill is inside the Western Peninsula National Park in Sierra Leone. The nature reserve is supposed to be protected by law. Instead it is being ravaged. An investigation by SourceMaterial and The Telegraph found three illegal Chinese-run granite quarries inside the reserve. Their stone could soon be decorating kitchen counters in London and Paris.
"The granite is very good quality," says Feng's boss, Xiao Peng, over a beer in his Freetown hotel—much better than in Ghana, where his cousin has a similar quarry. "I'm planning to export it all over—UK, Europe, US."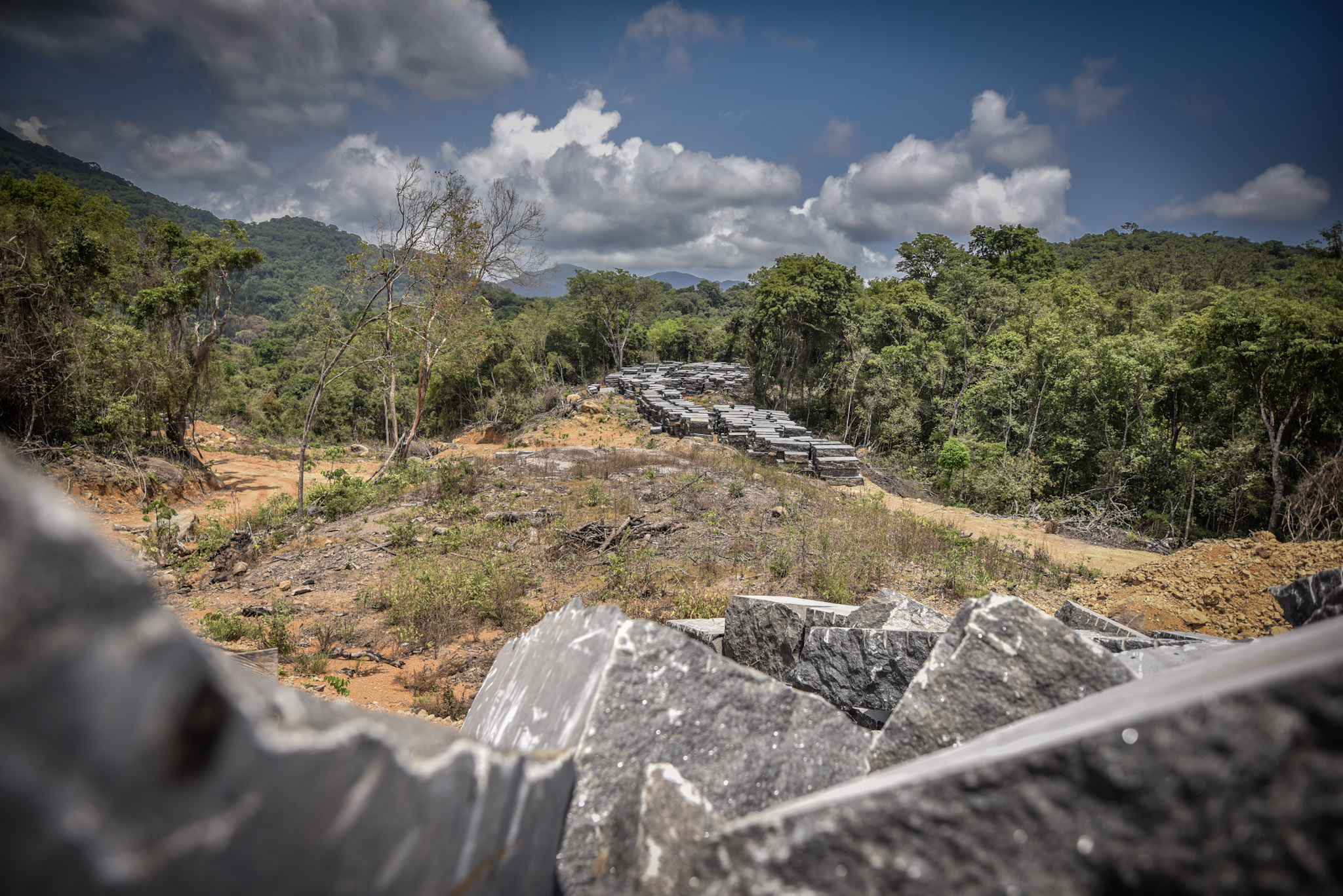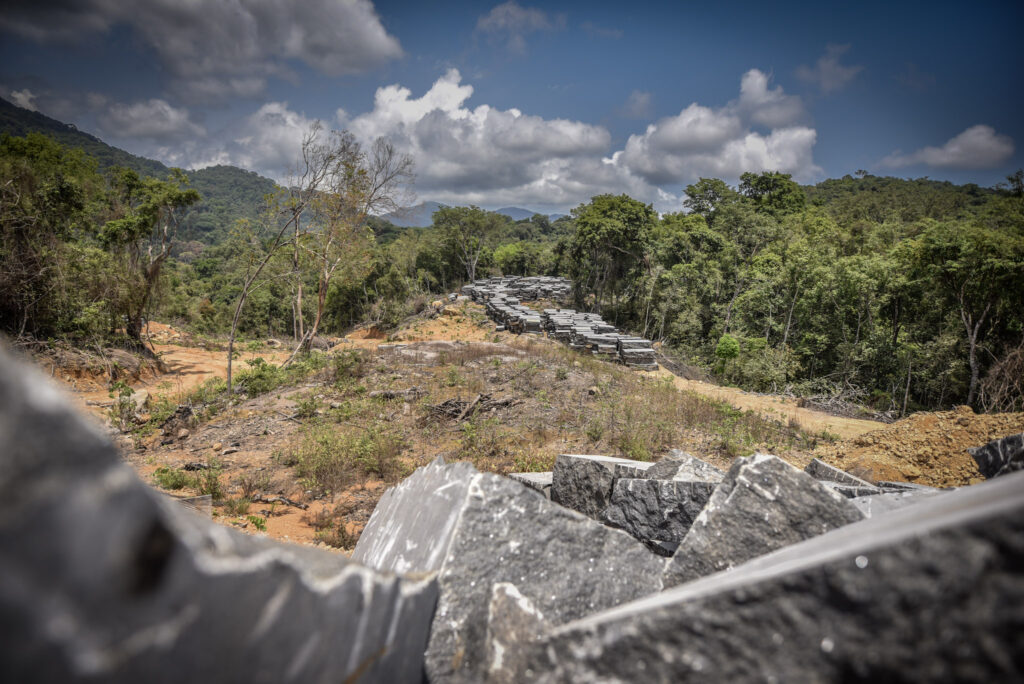 African rainforests are already declining faster than those of any other continent. Even so, the pace of the destruction in Sierra Leone is remarkable. The park has lost 22 per cent of its forest cover in less than two years.
The threat goes beyond deforestation. Last autumn villagers in Tokeh, below one of the quarry sites, were hospitalised after the stream they drink from turned white. Experts fear that the capital, Freetown, which lies just a few kilometres along the coast and also relies on water sources in the park, could soon face a similar threat.
But in a country plagued by corruption and poor governance, everything is for sale: China's influence through hundreds of millions of dollars in investment has allowed its companies to operate with impunity.
"This is plunder," says Yvonne Aki-Sawyerr, the city's mayor. "If it doesn't stop, there will be no Freetown left."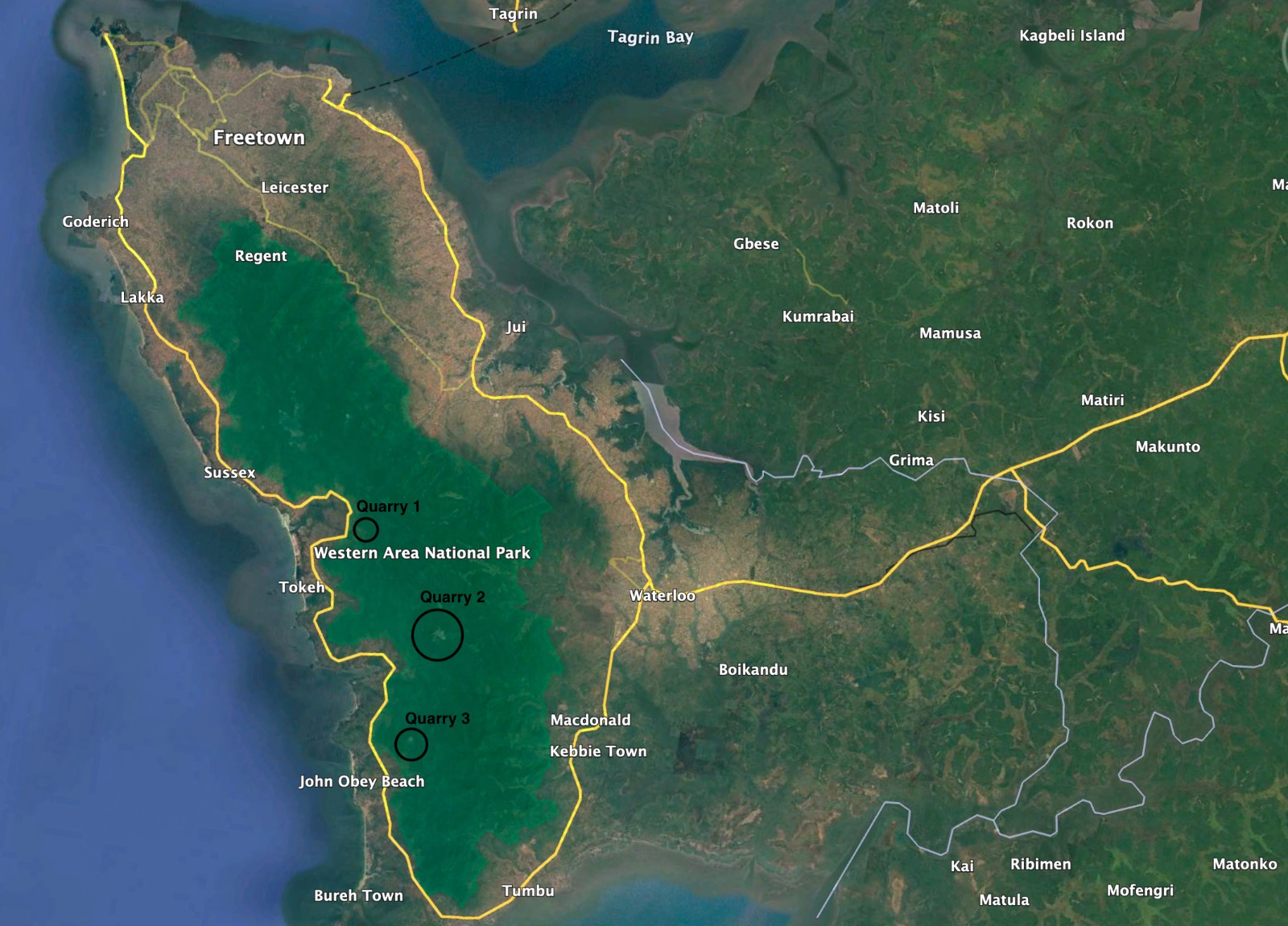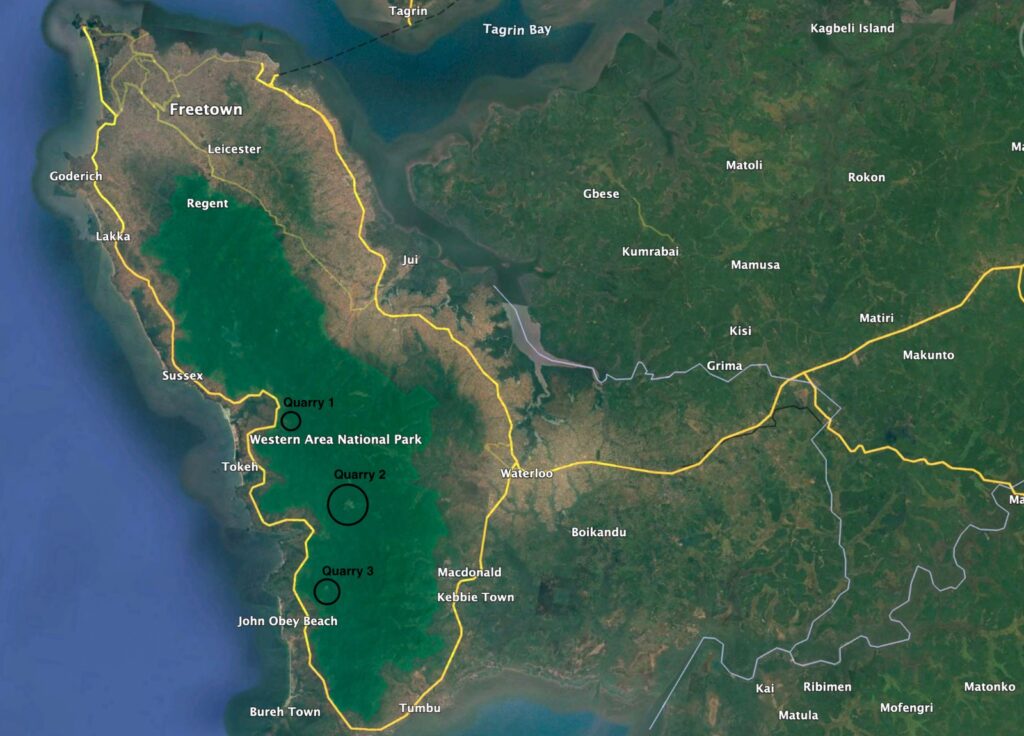 'People die'
Sierra Leone is on the front line of the climate emergency. Freetown's slums are becoming more crowded by the day as increasingly erratic rainfall ruins harvests and drives farmers to the city in search of work.
"This country is one of the most vulnerable countries to the adverse effects of climate change. It is in the top 10 per cent," says Batatunde Ahonsi, the UN's resident coordinator. "Every year we have flooding in which people die."
For the city's million inhabitants, perched on vertiginous hillsides along 30 kilometres of winding seafront, deforestation can be deadly. In 2017, freak rains dislodged a mountainside stripped bare of the trees whose roots held the soil firm. The torrent of mud and rocks that tore down the valley killed more than a thousand people.
In the Western Peninsula park, which stretches across rolling hills above the city, tree clearing is causing landslides and has destabilised the soil. The Guma reservoir, Freetown's main drinking water supply, is in danger, according to an unpublished UN World Food Programme report seen by SourceMaterial.
Warning shots
In the ruins of a corrugated iron shack beside the access road to a Chinese-owned quarry, head ranger Alie Thoroniga pulls out his old army card from his service with coalition forces in Baghdad. He then shows off the only weapon he has to defend the park (and himself) from poachers and land-grabbers armed with AK47s: a homemade catapult fashioned from rubber cord and a Y-shaped stick.
"In Iraq it was easier," he says. "At least there we were properly equipped."
Thoroniga commands a squad of 22 rangers to patrol around 50 square kilometres of Western Peninsula parkland. The shack was once a security post for the quarry. But in a rare victory, the rangers destroyed it.
"In Iraq it was easier. At least there we were properly equipped."
"They came with their caterpillar trucks and started bulldozing the road," Thoroniga says, "It was our duty to confront them."
More often than not, however, the defenders are powerless. When ranger Prince Dumbaya blocked the path of a bulldozer at Xiao Peng's quarry, the Chinese workers retreated—only to return a few days later accompanied by a dozen soldiers from the Sierra Leonean army. As Dumbaya and his colleagues approached the site, the soldiers fired warning shots over their heads.
"Let the Chinese men do their work," Dumbaya's boss told him on the phone, he says.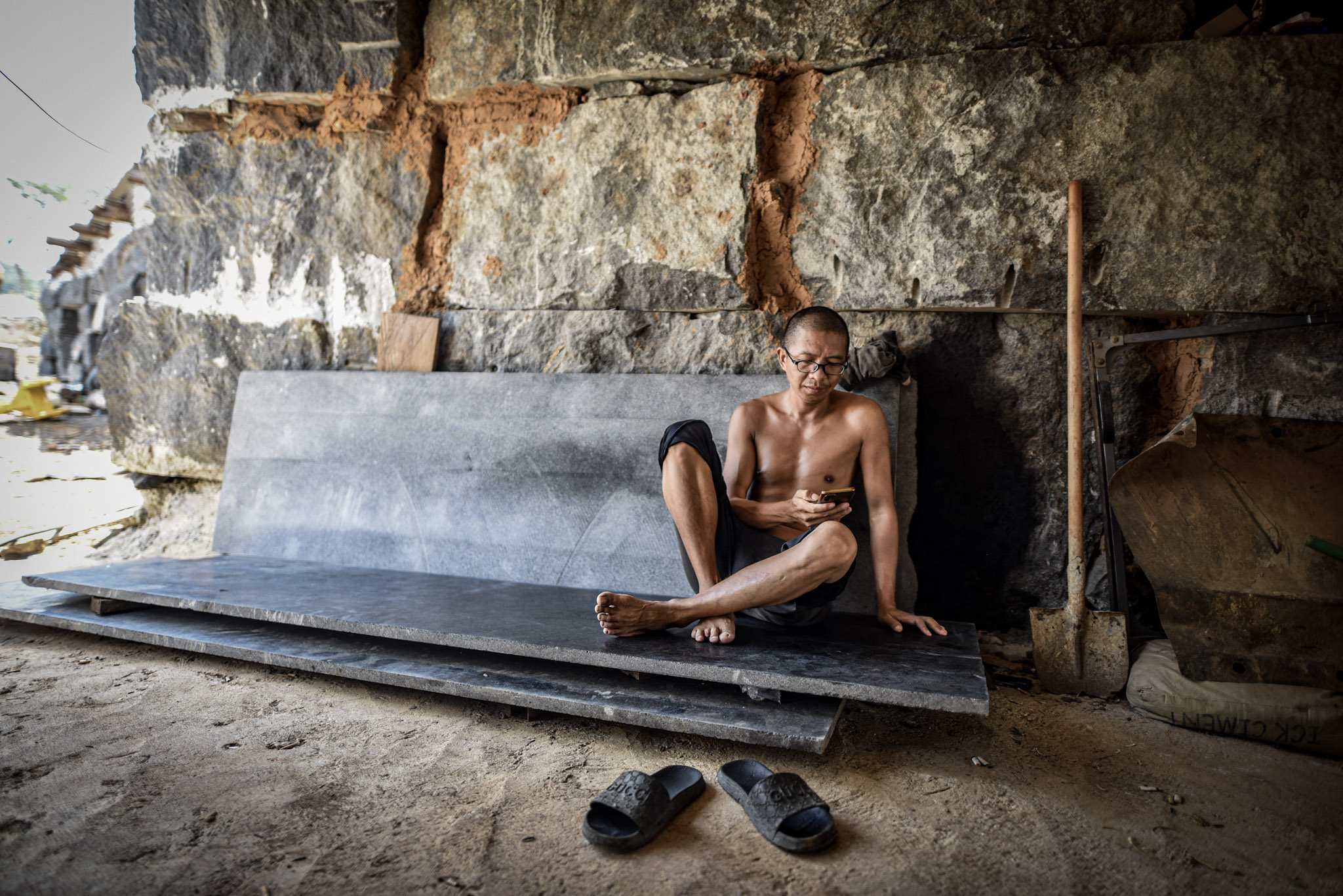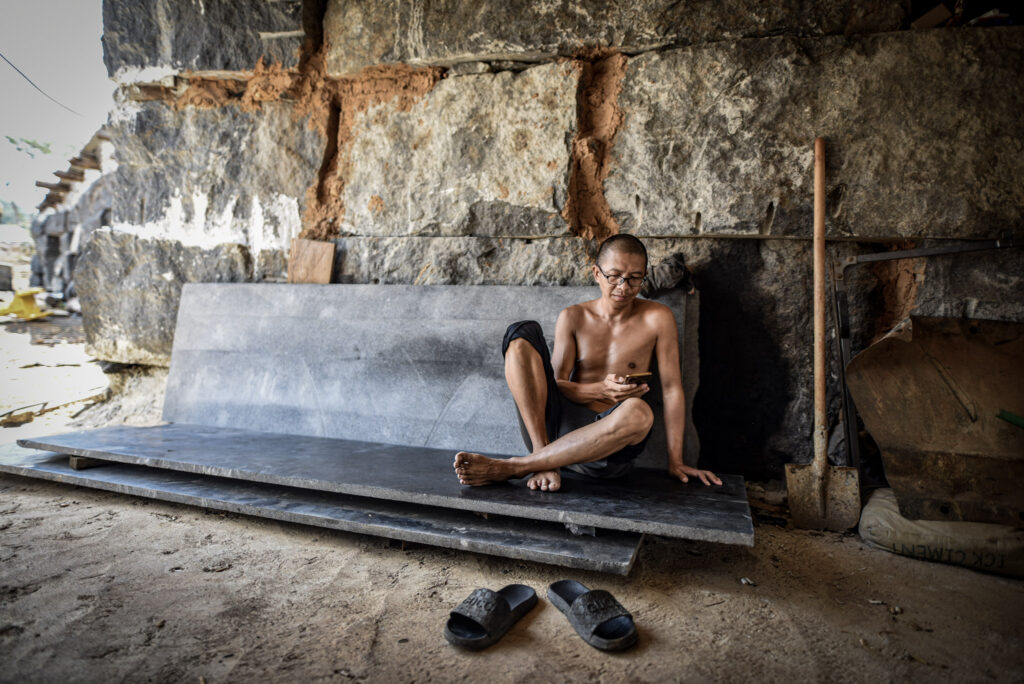 'It's carnage'
The Chinese quarries within the park's boundaries may be illegal. But Peng, the quarry owner, says he has a permit from the ministry of works—despite environmental laws forbidding him from operating there.
"Mining in a national park is prohibited," says Sonkita Conteh, a lawyer and land rights campaigner. "Any permit given out for quarrying within a national park is therefore illegal."
By the same token, Sierra Leoneans spilling out of overcrowded Freetown often buy land ministry licences to build illegal homes. When the rangers try to stop them, they risk attack. One of their colleagues is recovering after she was struck on the head with a machete, they say.
The result, clearly visible on satellite images commissioned by the World Food Programme, is a forest resembling an increasingly battered Swiss cheese: holed by quarries in the middle and gnawed away by land grabbers at the edges.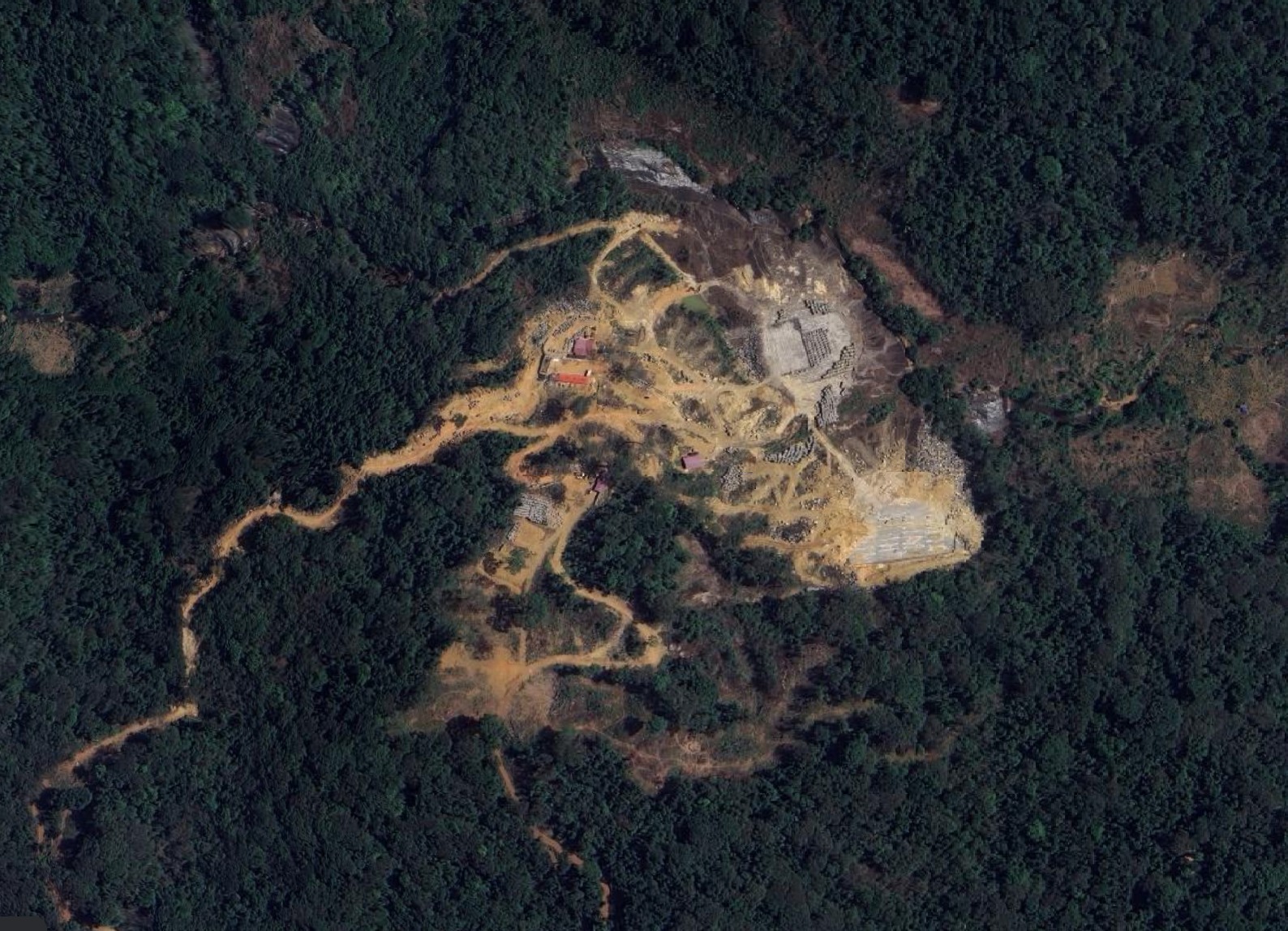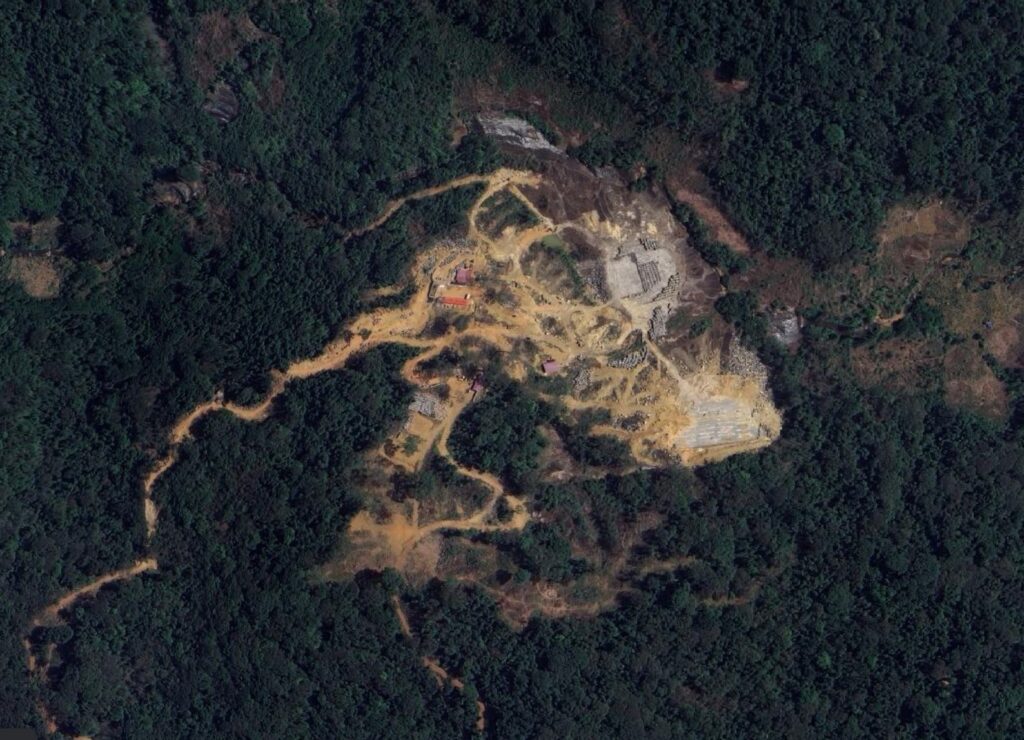 "It's carnage," says Bala Amarasekaran, a Sri Lankan who has been running a chimpanzee sanctuary in the park for 20 years. "Our original plan was to rehabilitate rescued chimps and return them to the wild. Now we know there's no point. It's being destroyed so fast they'd be back here within a week."
In the past two years the destruction has massively accelerated, Lisa Cheyney, the British high commissioner, told a Sierra Leone 'Climate Action Dialogue' backed by the UK, US and European Union last October.
But sponsors like the EU, which has allocated 122.5 million euros to support Sierra Leone's "green economy", are reluctant to use their influence to call out the government, says Amarasekaran:
"They don't really want to confront them."
Police beatings
Halfway up the seaward side of Western Peninsula Park is Black Johnson beach, a perfect horseshoe of bright blue where manatees cruise the mangroves and marine turtles nest in white sand.
"As soon as we saw it we knew we'd found paradise," says Jane Aspden, who runs a tiny eco-lodge—a few wooden huts and a tent—with her Sierra Leonean husband, Tommy Gdandewa, known as Tito.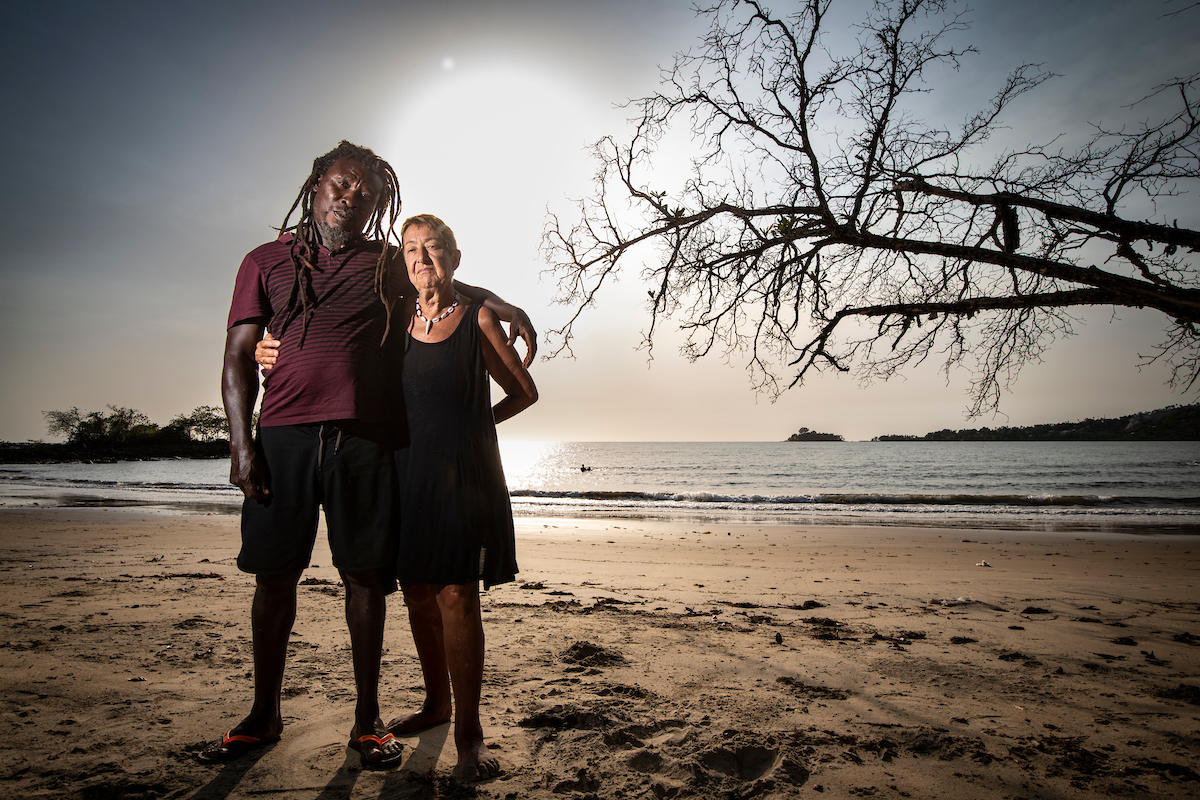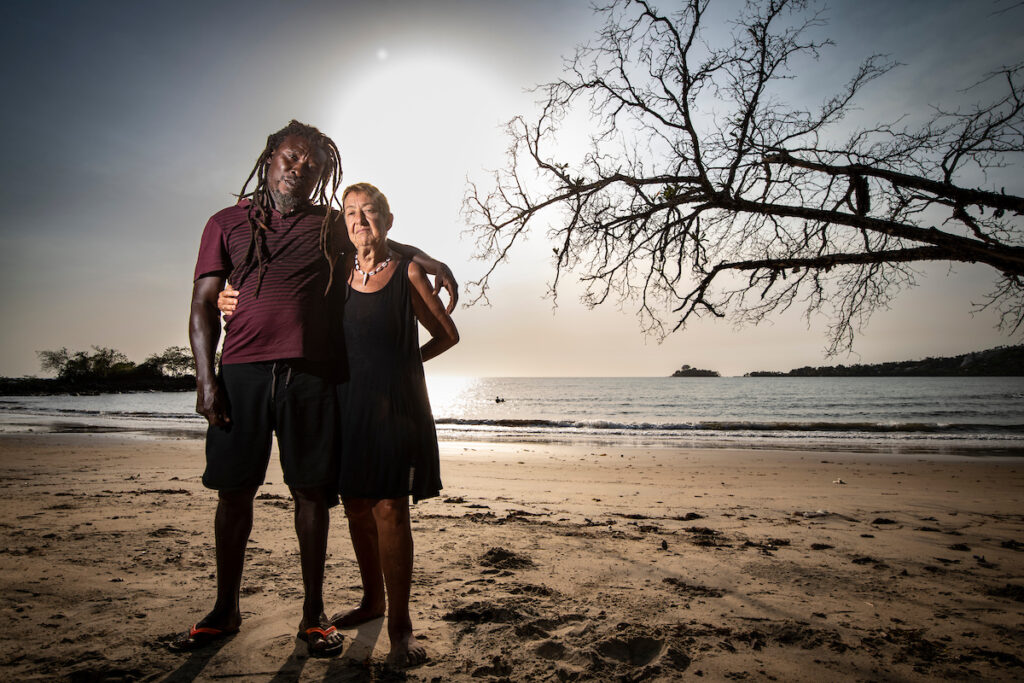 Chinese influence is growing across sub-Saharan Africa. In Sierra Leone, businesses are taking advantage of poor legislation, feeble enforcement and high levels of corruption to extract the country's natural resources.
In 2021, the government struck a deal with China: in return for a $55 million grant, it would let Chinese companies build an industrial fishing harbour at Black Johnson. The agreement set aside 252 acres of land, stretching across crocodile lagoons into the homes of monkeys and pangolins in the protected rainforest beyond.
The rationale for the port, which will allow China's deep-sea trawler fleet to anchor for repairs, is set out in a draft environmental impact assessment by Black Eagle, a consultancy. Black Eagle has no website. When Aspden visited its office address she found a yellow bungalow and a woman preparing food in a courtyard who had never heard of it.
One of the report's authors is an employee at the fisheries ministry, which approved the project. The document, littered with spelling errors, contains a proposal to redress the damage to local ecosystems with a marine park where "social animals, including orcas (killer whales), bottlenose dolphins and manatees can be trained in captivity to provide social functions".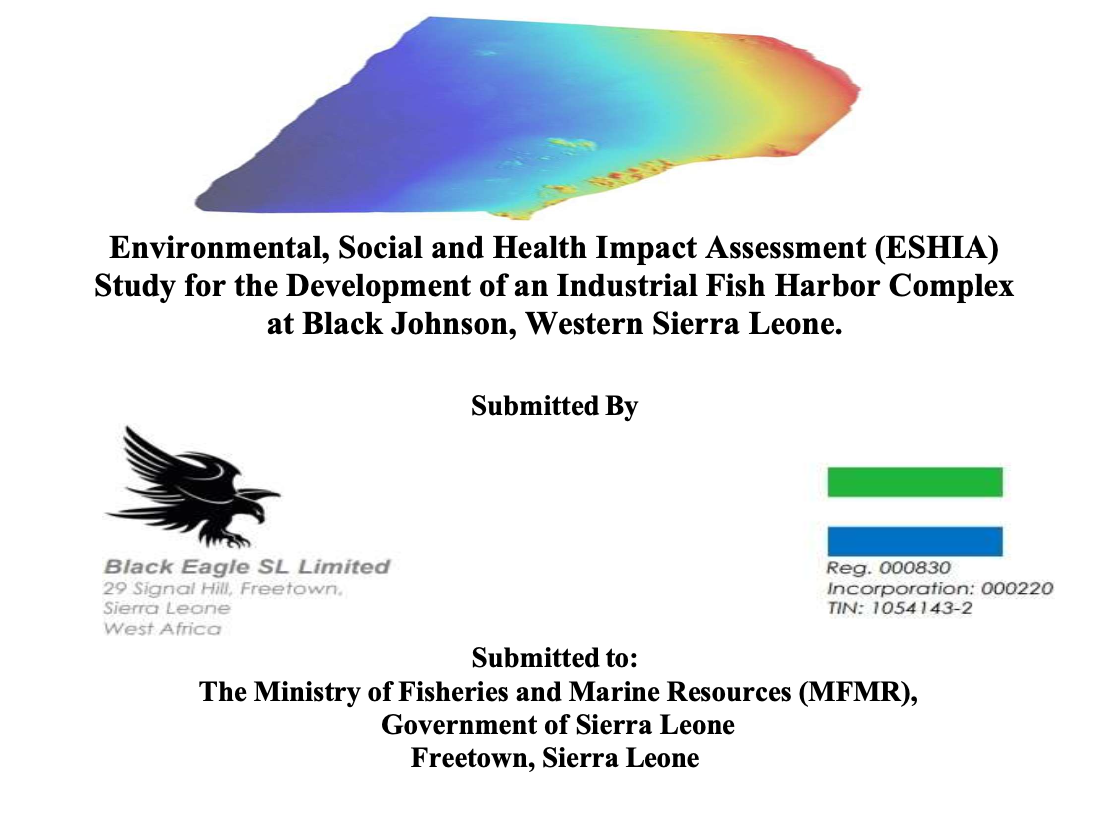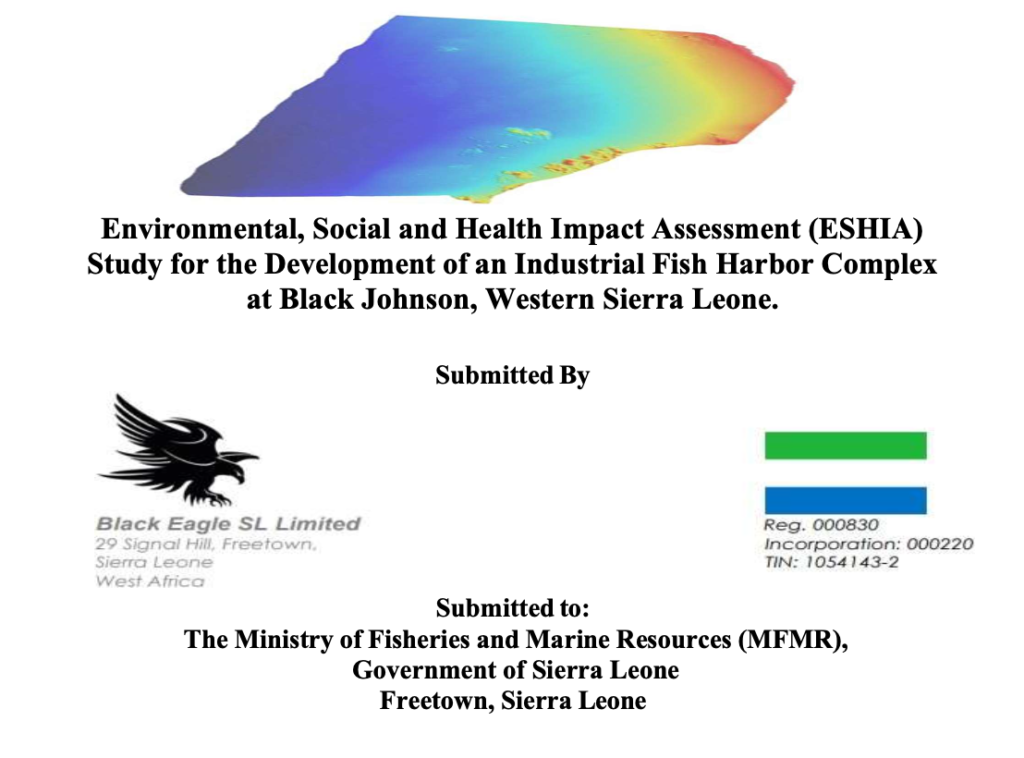 "They will never be able to get away with doing this," Aspden, who played a role in reviewing Sierra Leone's 1991 constitution, told SourceMaterial in early May.
Two and a half weeks later a Chinese drilling rig appeared on the beach, accompanied by police and soldiers with assault rifles. Shaky mobile phone footage shows the tracks of the machine churning up what Aspden says is the centre of the endangered green turtles' nesting site.
Policemen beat local fishermen with sticks and tasered and arrested a guest at the lodge, apparently confusing him with Tito. When Aspden intervened she was detained overnight in a prison in Freetown.
The heavy-handed operation was a reminder of the lengths to which the government will go in order to protect China's interests. The following day, the government announced a partnership with Chinese investors for a $1.2 billion mega-project to connect Freetown with Lungi airport via a seven-kilometre bridge.
A perfect storm
Climate change, poverty and bad governance have put Sierra Leone at the centre of a "perfect storm", says Joseph Rahall, who runs Green Scenery, a Freetown-based campaign group.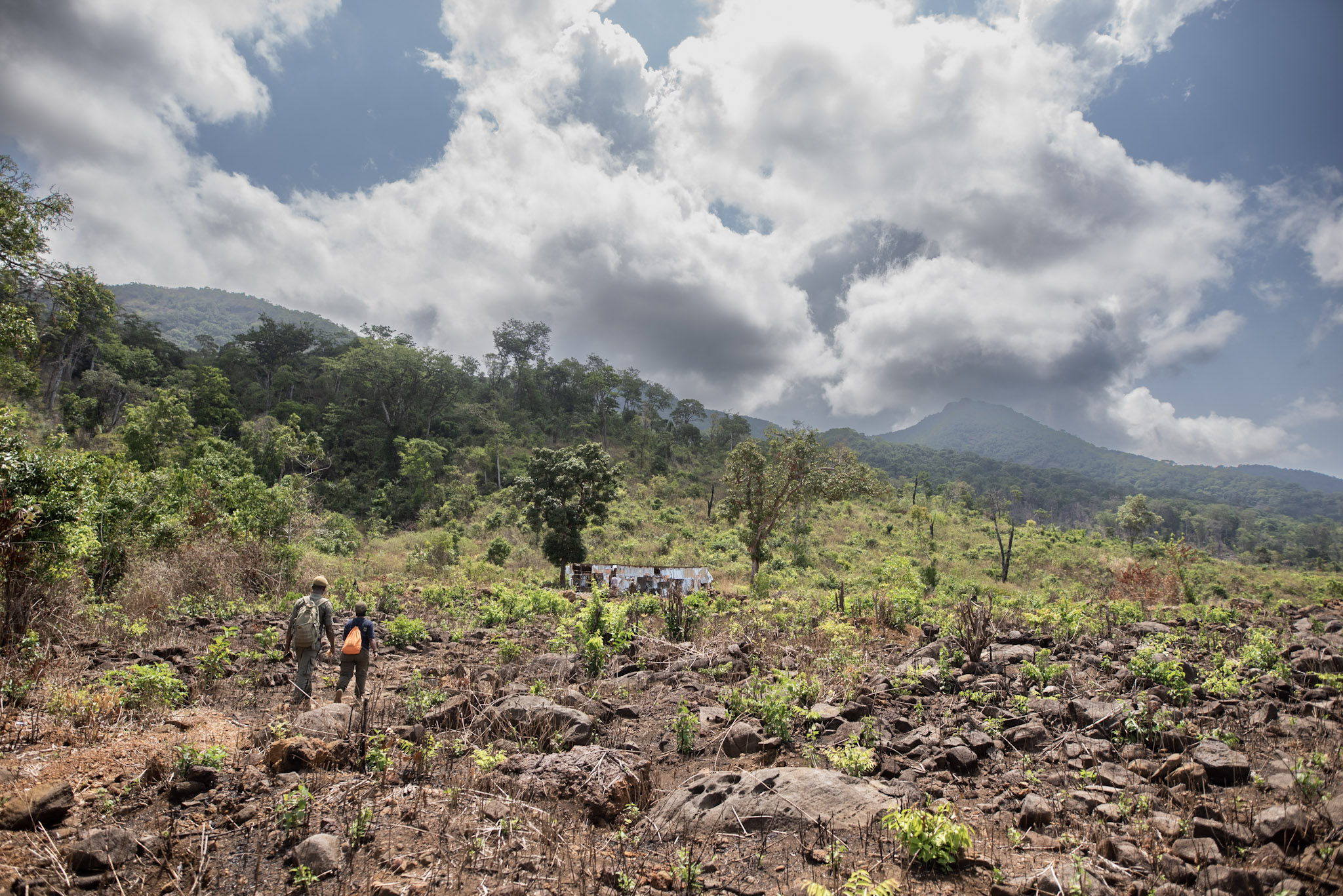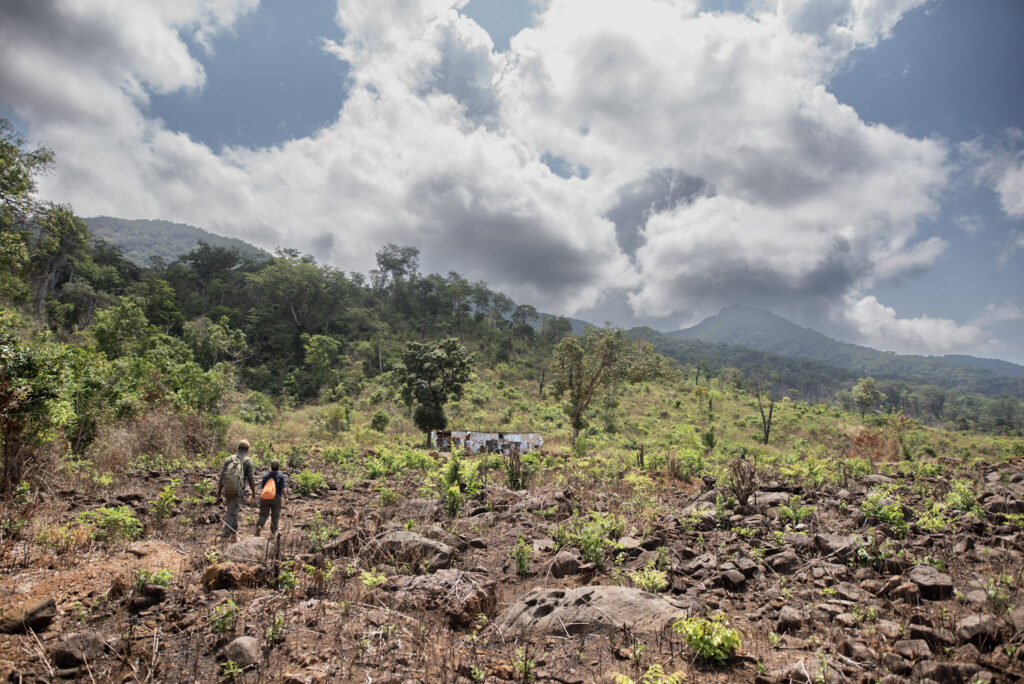 Battered by climate change-stoked floods and droughts that ruin homes and harvests, Sierra Leone is now seeing its natural defences decimated from within—sold to the highest bidder as the international community looks on.
"The rising temperatures are global. And the answer to that actually doesn't lie here. It lies in people doing something about the commitments they make every COP, and then walk away and ignore," says Aki-Sawyerr, the Freetown mayor who has fought a losing battle to preserve the city's coastal mangrove swamps. "The exacerbation of the situation—that's local."
But while recent years have been brutal, it's not too late, she says. Other countries have pulled back from the brink of the climate apocalypse. In 1985 Costa Rica had one of the world's highest rates of deforestation and trees covered just 24 per cent of the country. Measures such as paying cattle farmers to plant trees and a fossil fuel tax to fund forest conservation restored forest cover to 57 per cent. 
"Things can be done," Aki-Sawyerr says. "What we have lacked is the political will."
Headline picture: Simon Townsley