Documents reveal state agriculture lender's key role in exporting Russian oil, contradicting Kremlin claims
Russia has been accused of jeopardising global food supplies to prop up its sanction-hit energy industry after it emerged that a state agriculture bank was in fact financing oil shipments.
The Kremlin claims that Rosselkhozbank, Russia's fifth-biggest lender, only funds farmers and the food industry. Russia is now threatening to back out of a deal for safe passage of Ukrainian grain, due to be renewed this month, unless the West lifts restrictions on it.
But an investigation by SourceMaterial and The Economist has found that amid the Russian pressure, Rosselkhozbank quietly arranged to lend up to $350 million to a little-known Hong Kong trading house that ships oil from Rosneft, the Russian state oil company.
The agriculture bank's role in oil deals shows how Russia is able to manipulate concerns over grain shortfalls to benefit its sanction-hit oil exports, said Ian Ralby, a fellow at the Center for Maritime Strategy in Arlington, Virginia.
"Russia is incredibly adept at using pressure regarding food, fertiliser and fuel as a way of gaining advantage," he said. "Russia's actions do not line up with their crocodile tears."
Russian deputy foreign minister Sergey Vershinin warned on February 13 that it would be "inappropriate" to renew the grain deal while there was no progress on "the real removal of sanctions restrictions on Russian agricultural exports".
Key exporters
The Black Sea Grain Initiative, brokered by Turkey and the United Nations, came into force last July to allow Ukrainian shipments. In parallel, Russia and the UN signed a memorandum aimed at easing restrictions on its own grain and fertiliser exports imposed by the European Union, the United States and other countries.
While agricultural products are not directly sanctioned by the West, Russia complains that restrictions on lenders, insurers and shippers have held up trade. Chief among Russia's demands is the lifting of sanctions on Rosselkhozbank and its re-admittance to the Swift system that connects international lenders.
Deputy prime minister Viktoria Abramchenko has meanwhile assured the West that the lender's business is entirely focused on agriculture.
"We for our part guarantee that only food, only mineral fertilisers will be the goods that go through this bank in settlements," she said on December 22.
But SourceMaterial's investigation found that just days after her claim, Rosselkhozbank was agreeing a $350 million credit line for Bellatrix Energy, one of several new traders filling the void left by bigger companies that wound down Russian oil purchases after the February 2022 invasion of Ukraine.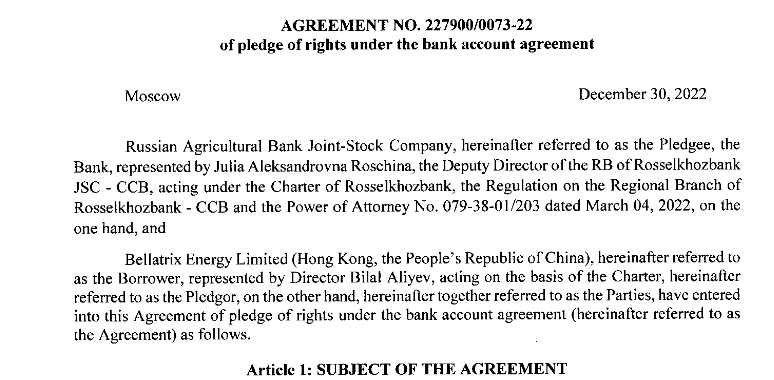 Bellatrix is controlled by Bilal Aliyev, an Azerbaijani who took over ownership from a Taiwanese national in the early weeks of the war, Hong Kong filings show. Its main business partner is the Russian state-owned oil giant, Rosneft.
Of 22 oil-product cargoes Bellatrix has bought this year, all but one originated in Russia, with 19 coming directly from Rosneft, according to shipping data analysed by The Economist. Destinations for the shipments included India, China and Greece.
The exact role of Rosselkhozbank and its relationship with Bellatrix could now have a bearing on talks to renew the Black Sea deal, with direct consequences for global food markets.
Russia and Ukraine represented 29 per cent of global wheat exports before the war and Ukraine alone provided 40 per cent of the wheat in the UN's World Food Programme, which offers humanitarian aid. When Russia temporarily suspended the Black Sea deal in October, wheat futures soared as much as 8 per cent.
"There's a very direct relationship between Russia pulling out of the deal and global prices rising," said Susanne Wengle, a political scientist at the University of Notre Dame in Indiana. "Russia knows that this works."
Ismini Palla, a UN spokeswoman for the initiative, said: "Unimpeded exports of grain and fertilisers from Ukraine and the Russian Federation are critical. The UN is working with all parties for the full implementation and continuation of the initiative beyond March."
The European Union and the UK introduced an embargo on the shipping of Russian oil on December 5 last year. There is no suggestion that Hong Kong-based Bellatrix broke sanctions with its Russian trades.
Bellatrix, Rosselkhozbank and the Russian ministry of foreign affairs did not return requests for comment.
Picture: Ships in the Bosporus at dusk, Cem Kayhan/Alamy