Offshore oil drilling in Brazil, a gas pipeline in Turkmenistan and power stations in Iraq among the projects that could still be approved
The UK government is continuing to advance fossil fuel investments abroad despite an impending ban, documents reviewed by SourceMaterial show.
Boris Johnson announced in December that the government would end backing for overseas oil, coal and gas projects, perhaps as soon as next month.
As the clock runs down, UK Export Finance (UKEF), which makes and guarantees loans to support British industry abroad, appears to be scrambling to complete a last-ditch round of fossil fuel investments while resisting calls to disclose where the money is going.
Responding to a parliamentary question in November, the government said only that UKEF is still actively considering seven major fossil fuel projects, without releasing specific information about them. UKEF confirmed to SourceMaterial that it will still consider applications for support in the sector and declined to provide further details.
But SourceMaterial found clues elsewhere to reveal projects in line for hundreds of millions of pounds in support including power stations in Iraq, offshore drilling in Brazil and a gas pipeline in Turkmenistan.
Preet Kaur Gill, the Labour MP who asked the parliamentary question, called these revelations "shocking".
With the UK preparing to host a high-profile UN summit on climate change next year, there are concerns from across the political spectrum that continuing to fund heavily polluting infrastructure will appear hypocritical.
Boris Johnson announced in December that the UK would stop funding fossil fuel projects overseas (Credit: Freddie Mitchell / No 10 Downing Street)
"As we urge countries to cut their emissions faster as part of a green economic recovery from Covid-19, we should not be supporting risky new fossil fuel investments overseas," Sam Hall, director of the Conservative Environment Network, told SourceMaterial. "Green investments generate the best long-term returns."
Green Party MP Caroline Lucas said that with the UK "already telling other countries to be more ambitious on emissions cuts, it would be shockingly hypocritical if the government waved through any of the projects believed to be under consideration before the ban comes into place".
The government has proposed four possible dates for its fossil fuel ban to come into effect: March, June, October, or some time next year. Which date it chooses could have a significant bearing on how many of these projects UKEF is able to fund.
Trade minister Graham Stuart has confirmed, for example, that UKEF could complete projects in Brazil and Turkmenistan before the end of July.
Offshore oil drilling in Brazil
The southeast coast of Brazil is one of the most oil-rich parts of the world and the sea there is dotted with drilling rigs.
They are served by what the oil industry calls floating production storage and offloading (FPSO) units, ships that process and store oil until it can be loaded onto a tanker or transported through a pipeline.
Stuart has told parliament that one of the projects being considered is an FPSO project. He has also said on a separate occasion that two upstream projects are being considered in Brazil.
Yinson, a Malaysian company that is one of the world's leading makers of FPSO, is working on converting a ship designed to carry crude oil into an FPSO unit in Brazil. UKEF organised supplier fairs in April and October for companies to explore opportunities to enter the supply chain for this project.
The invitation to the April event stated: "Yinson is looking to increase UK Export Finance's support for the project, and in order to do so is looking to increase its procurement of UK goods and services in its supply chain."
This suggests that Yinson's project is one of those that UKEF is looking to support, although a UKEF source told SourceMaterial that this event was ultimately cancelled due to Covid-19.
Although UKEF does not hold figures on the possible emissions from all the projects it is considering, Stuart did reveal that the two Brazilian projects it is considering would emit over 2.5 million tonnes of CO2 a year between them, the equivalent of burning 14,000 railcars' worth of coal.
State gas in Turkmenistan
Turkmenistan, a Central Asian country on the Caspian Sea, has the sixth-largest gas reserves in the world, and the gas sector dominates the national economy.
The country, which is currently in the grip of an economic crisis, is ranked 161st out of 180 by Transparency International's Corruption Perceptions Index, indicating public sector corruption.
A report by the UK government's own Foreign Office also raises concerns about "continuing allegations of torture and poor prison conditions, restrictions on freedom of expression and on freedom of religion or belief, gender discrimination, and restrictions on LGBT rights".
In May, the Ministry of Finance and Economy of Turkmenistan held a video conference meeting with UKEF, according to a release from the Turkmen government. The release said that "specific investment projects" were discussed.
It also mentioned negotiations held in February 2020 by a Turkmen delegation with UKEF in London. According to the release, "the parties discussed prospects for cooperation with the Türkmengaz State Concern", the country's national gas company.
Stuart, meanwhile, has confirmed that UKEF is considering supporting a project to provide "compressors for a gas pipeline to a power station" in Turkmenistan, which would emit more than 100,000 tonnes of CO2 per year.
Gas-fired power stations in Iraq
UKEF has recent history with fossil fuels in Iraq, having last year helped to finance the construction of two gas-fired power stations by the US conglomerate General Electric.
A release from the Iraqi government last June suggests this history may be continuing. It shows that Iraq's finance minister, Ali Allawi, was authorised by the Cabinet to negotiate and sign "a loan for the multi-annual maintenance project—the fourth stage in the amount of $120 million implemented by GE with funding from an international bank and guaranteed by UK Export Finance, UKEF".
This is part of a range of contracts GE has signed with the Iraqi government to carry out upgrades, maintenance and service on gas power plants. GE's press release on these contracts stated that the company would "work with multiple export credit agencies to facilitate the discussion of financing over US$1 billion for the projects".
An oil pipeline in Uganda
UKEF already has interests in Uganda. In 2017 it lent the Ugandan government €270 million, its biggest loan to an African government, to help build a new international airport.
This airport will be built in Hoima, a city about 30km from the shores of Lake Albert and the prospective site for an oil refinery. Both are crucial to plans for the 1,450km East Africa Crude Oil Pipeline, intended to export Ugandan crude oil from the landlocked state to a terminal on the coast of neighbouring Tanzania.
Graham Stuart, in answer to another parliamentary question, has confirmed that the agency is considering supporting the pipeline.
On 17 January 2019, UKEF hosted an event for suppliers interested in getting involved in this pipeline, showing the agency's interest in the project, according to an announcement by the Sussex Chamber of Commerce.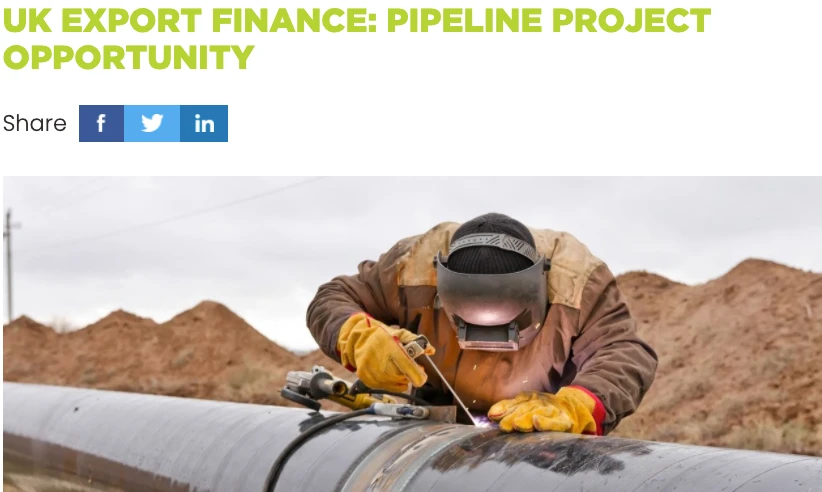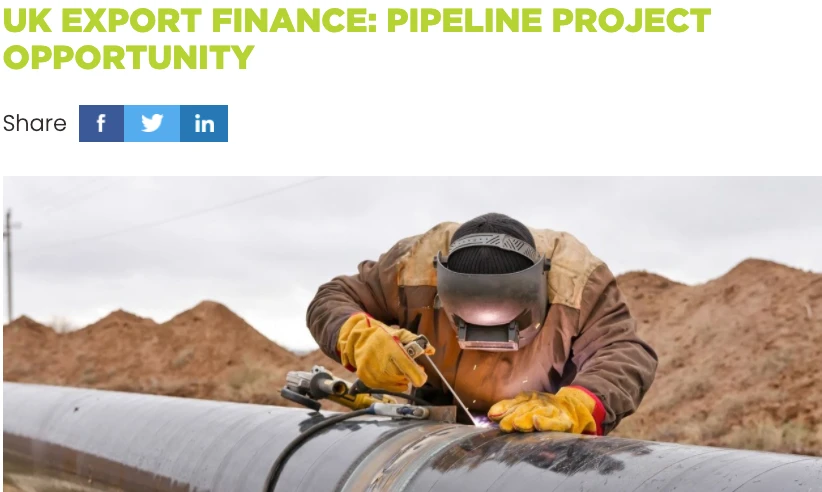 The engineering firm Worley has also prepared a confidential briefing on the project for UKEF, obtained by SourceMaterial. This briefing describes the different services and pieces of equipment that will need to be procured for the pipeline.
A person with knowledge of UKEF's plans said that the agency does not expect to support the project in 2021 – leaving open the possibility that if the ban does not come in this year, UKEF could still support it.
And the others?
Details of the rest of the fossil fuel projects UKEF is considering are sparse. We know from Graham Stuart's statement that these other projects and trade finance applications are in Algeria, Azerbaijan, Canada, China, Egypt, Italy, Malaysia, Thailand, Turkey and the UK.
The British oil giant BP is leading a development in Azerbaijan which is at risk from the current conflict in Armenia. The Tahrir Petrochemical Complex in Egypt is in the USA's export agency pipeline. Could UKEF be interested in either of these?
SourceMaterial has asked UKEF about all the projects mentioned in this article and about how the possibility of a government ban on fossil fuels affects the agency's thinking on the sector.
The agency declined to comment on the specific projects but a spokesperson said: "UKEF is obliged to consider all requests for its support as its legal mandate is to support viable exports in all sectors. However, any support it provides is subject to a project meeting strict pre-agreed criteria."
(This story was updated on 8 February 2021 to correct the date of the UKEF event in para. 31)
Picture: Freddie Mitchell / No 10 Downing Street